期刊名称:RECHERCHES DE THEOLOGIE ET PHILOSOPHIE MEDIEVALES
期刊简介(About the journal)
投稿须知(Instructions to Authors)
编辑部信息(Editorial Board)
---
About the journal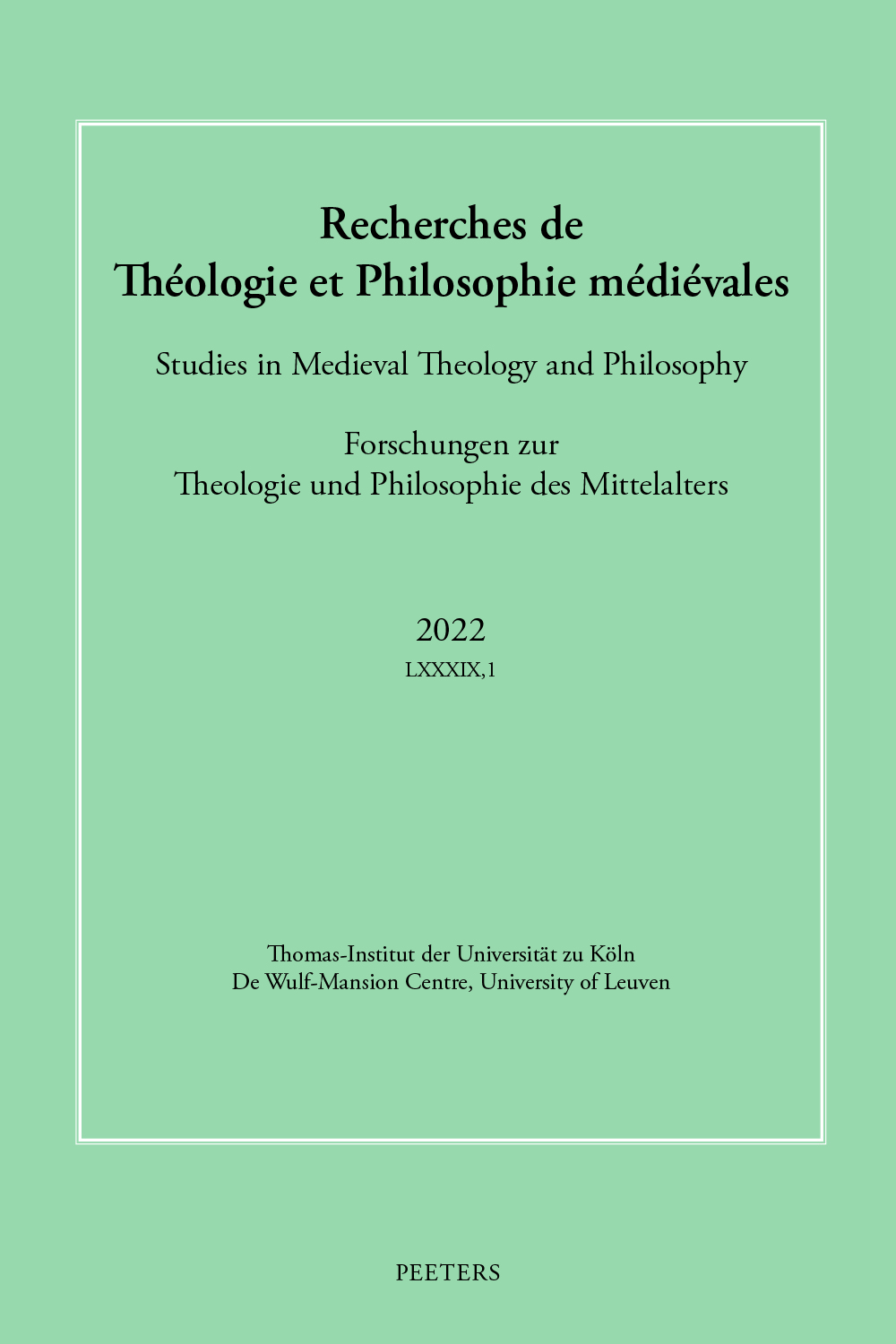 The Recherches de Théologie et Philosophie Médiévales / Forschungen zur Theologie und Philosophie des Mittelalters (formerly Recherches de Théologie Ancienne et Médiévale of the Abbaye Mont César) provides a forum for original, high-quality research on all aspects of theology and philosophy from Augustine and the Early Middle Ages up to late scholasticism. Recent articles have included highly focused studies on particular facets of the medieval philosophical or theological tradition, broader reconsiderations of received views in the history of medieval theology and philosophy, and editions of texts and manuscript studies. Articles are supplemented on a regular basis by a «Report on Research? in which a particular set of issues of current discussion is presented in light of relevant publications, and a «Review of Literature? which gives a selective overview of the year's new publications. Languages of publication are English, French, and German. The journal is a co-production of the Thomas-Institut (University of Cologne) and the De Wulf-Mansion Centre (Catholic University of Leuven). All articles submitted for publication are double-blind peer-reviewed.

Recherches de Theologie et Philosophie Médiévales is abstracted and indexed in the Arts & Humanities Citation Index and Current Contents/Arts & Humanities; MLA Directory of Periodicals; International Philosophical Bibliography/Répertoire bibliographique de la philosophie; INIST/CNRS; CrossRef; Thomson Scientific Links.
Instructions to Authors
Individual Subscribers
A personal subscription to one of the journals allows you to access the online archives of Peeters Online Journals at no extra cost.
Editorial Board
Editors:
Jan A. Aertsen, Russell Friedman, Maarten J.F.M. Hoenen, Wouter Goris, Dom Guibert Michiels, Andreas Speer, Carlos Steel

Advisory Board:
Olivier Boulnois, Stephen Brown, Francesco Del Punta, Kent Emery Jr., Guy Guldentops, Roland Hissette, Édouard Jeauneau, Theo Kobusch, Matthijs Lamberigts, Alain de Libera, James McEvoy, Dominik Perler, Pasquale Porro, Christopher Schabel, Hans Gerhard Senger, Loris Sturlese, Hans Thijssen, Dirk Van den Auweele, Georg Wieland, Robert Wielockx.

Contact:
Dr. Sabine Folger-Fonfara
Thomas-Institut der Universität zu Köln
Universitätsstrasse 22
50923 Köln
Germany

RTPM@thomas-institut.uni-koeln.de

Former editors:
Jos Decorte